Welcome to ELAFLEX Ltd
Elaflex Hiby are a leading international company of equipment for use in safety critical applications in the petroleum, petrochemical and Pharma and Bio tech Industries. Our products are always "state-of-the-art". We specialize in ZVA Nozzles, Rubber bellows, MannTek Dry break, dry disconnect, and safety break away couplings and ball valves. We also supply Elaflex Hiby technical rubber hoses and hose end fittings.
ELAFLEX Ltd is associated with Elaflex Hiby of Germany and covers the UK and Irish markets. We are accredited to ISO 9001 and have the skills and resources to provide our customers with the technical know-how in support of our products.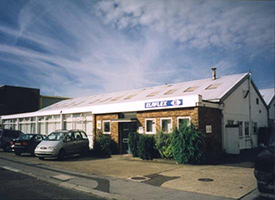 ELAFLEX LTD
Riverside House
Plumpton Road
Hoddesdon, Herts EN11 0PA
Tel.: +44 1992 45 29 50
Fax.:+44 1992 45 29 11
E-Mail: sales@elaflex.co.uk
ELAFLEX Ltd was established in June 1987 originally located in Hendon. The business has evolved and grown over the years and In 1992 we moved to our present and larger facilities in Hoddesdon Hertfordshire in the South East of England, with easy access to the airports of Stansted, Heathrow, Luton and Gatwick.

Aircraft Refuelling Hoses (YELLOW BAND... / NEON.../ COUPLINGS / OVERWING NOZZLES)

Tank Truck Hoses (YELLOW BAND HD, TW, LTW...)
Chemical Hoses (UTS / UTL, ELAFLON PLUS FEP, PTFE...)
Hose Fittings and Tank + Pipe Fittings

PAL High Quality hoses for Chemical Industry (POLYPAL CLEAN, TECNOPAL...)

Pharma Hoses(ELAPHARM...) and clean connections

Rubber Expansion Jointsfor water and waste water; Petroleum based products and LPG; Chemistry and Foodstuff (ERV-G / -R / ROTEX...)

Automatic Dispensing Nozzles (ZVA Slimline 2, ZVA Slimline 2 GR...)
Non-Automatic Dispensing Nozzles (ZV 19, ZVF 50, ZV 500...)
Safety Breaks (SSB 16, CSB 21...)
We specialize in ZVA Nozzles, Rubber bellows, MannTek Dry break, dry disconnect, and safety break away couplings and ball valves and Elaflex technical rubber hoses and hose end fittings. Our hoses are true smooth bore extruded construction. We supply long length coils or cut assemblies to customer's specific requirements.
From our HQ in Hoddesdon and with our representatives we cover the UK and the Republic of Ireland. At our facility in Manchester we provide additional specialised technical work with LPG as well as training, service repair, testing and maintenance of hoses, nozzles and couplings.
Aviation: We specialise in Into-plane aircraft refuelling hoses and nozzles , rubber expansion joints for tankers and Dry disconnect couplings for off take application.
We offer our customers a "Hose awareness Training" program aimed at creating awareness of the key safety critical elements of the refuelling hose and fitting assembly in use. This is of benefit to drivers fitters and operators. The course includes elements of assembling as well as briefing on the latest standards.
LPG: A nationwide LPG hose testing to specification and UKLPG UIS 24. The work is done for customers on site. We visit you and the work is done with the minimum of downtime and at yor nconvenience. All our work is certified and done to a formalised documented process by our trained engineers.
An annual LPG Tanker testing, hose inspection meter proving.
MannTek: Elaflex Ltd are an officially approved supplier of MannTek products as well well as a repair service and maintenance facility.
Tanker reeling Hoses. We offer a cost saving documented inspection process to improve the service life of your reeling hoses. In use with our reeling hoses customers tell us they have made savings in the region of 60 % during the operation of these programs.
Nozzle repair: Elaflex offers an "As good as new" repair and testing for Elaflex, ZVA, Gas Guard and more nozzles.